Ontario Fly-in Walleye Fishing Outpost Camps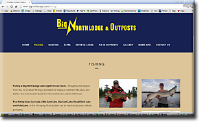 Big North Lodge & Outposts is located on Gun Lake, part of the Winnipeg River System at Minaki, 25 miles north of Kenora, Ontario. Our 5 lakes & river system is famous for outstanding Walleye fishing. With 45 miles of lakes & river, Walleyes are plentiful. You can find spots where you are catching Walleye one after another and some of the Walleyes can get huge with many Walleyes in the 26 to 34-inch range being caught. Our family-operated drive-in lodge offers both American Plan and deluxe lakefront Housekeeping accommodations with all the comforts of home in the wilderness. We also have newly renovated Housekeeping cabins at our fly-in outposts on "Trophy Waters" Roger Lake and Long Lake. Outpost Camps have 14' Lund Boats and 9.9 Hp Mercury motors. Both outposts have unbelievable fishing for Walleye. Come join us for an unforgettable experience.
Ogoki Frontier is a fly-in fishing and hunting outpost outfitter located south of Armstrong with 10 deluxe fishing outpost camps on lakes in east of Wabakimi Provincial Park. Walleye fishing in the Ogoki Reservoir, at Whiteclay lake, in the Ogoki River, or at Mojokit Channel is fun. The Walleye are large, plentiful, feisty and taste great pulled from cold clear Northern Ontario waters. Your hosts Paul and Judy Boucher are well experienced outfitters who provide great service, accommodation, and equipment. Ogoki Fly-In Fishing is staying with FRIENDS! And sharing some of the Best Walleye Fishing in Ontario.
At Anderson"s Lodge you have choices of 5 species including fat, mouth watering Walleye, with both numbers & your best chance at a trophy, fishing the legendary Lac Seul - Walleye Capital of the World! From all-inclusive American Plan to Deluxe Fly-In Outpost Packages we can accommodate any groups' needs. New Mercury engines every year & custom-built 21' Bowriders, sumptuous food, including a fresh fish "shore lunch", impeccably clean 1st class accommodations - there is nothing else like it in Sioux Lookout! Professional guiding & service staff provide you with remarkable customer service-totally committed to providing you a quality fishing vacation!We have the best Walleye fishing in Ontario.
Thunderhook Fly-ins & Smooth Rock Camp is located north of Armstrong and in the heart of the best Walleye fishing in Ontario. They offer multiple fly-in outpost camps to choose from on remote lakes and a fly-in lodge. All their lakes are stuffed with Walleye. Walleye are most common in the 20 to 23-inch range but their remote lakes can produce Walleye over 32 inches and in the 10 to 12-pound class. Guests with minimal experience with Walleye fishing can expect to catch between 50 and 100 Walleyes per day and those numbers include lots of 4 and 5-pounders. They also have outstanding fishing for , Lake Trout and Brook Trout.
AMS Outposts Camps' air base is located 2 miles west of Nakina, Ontario on Cordingly Lake. From Nakina you fly north into the deep wilderness. They have fly-in outpost camps (including brand new camps) on Meta Lake, Albany River, Stone Lake and Ara Lake. All of these lakes are 100 walleye-per-day lakes with monster trophyWalleyes being caught as well.
Red Pine Lodge & Outpost Camps is located in the James Bay Frontier and in the heart of some of the best Walleye fishing in Ontario. Their main lodge is on the famous Ivanhoe Lake and not too far from Foleyet, Ontario. They have outstanding fishing for Walleye with great numbers and huge tropy Walleye. They offer both lakeside cottages at their main camp and remote boat-to outpost camps and a fly-in outpost camp.
Twin Lakes Outfitters Fly-in Outpost Camps: Their air base is located 6 miles east of Nakina Ontario onCordingly Lake. They have 17 fully equipped fly-in outpost cabins with unbelievable fishing for Walleye. Most of their outpost lakes are 100+ Walleye per day lakes. In one of their lakes, a world record Walleye of 25 pounds was caught but it was not properly documented and also released so it did not qualify as a record.