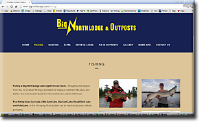 Big North Lodge & Outposts
is located on Gun Lake, part of the Winnipeg River System at Minaki, 25 miles north of Kenora, Ontario. Our 5 lakes & river system is famous for outstanding Walleye fishing. With 45 miles of lakes & river, Walleyes are plentiful. You can find spots where you are catching Walleye one after another and some of the Walleyes can get huge with many Walleyes in the 26 to 34-inch range being caught. Our family-operated drive-in lodge offers both American Plan and deluxe lakefront Housekeeping accommodations with all the comforts of home in the wilderness. We also have newly renovated Housekeeping cabins at our fly-in outposts on "Trophy Waters" Roger Lake and Long Lake. Outpost Camps have 14' Lund Boats and 9.9 Hp Mercury motors. Both outposts have unbelievable fishing for Walleye. Come join us for an unforgettable experience.
Northwest Outfitters
is a small and remote outpost lodge located on Shoal Lake and not far from the narrows leading to Lake of the Woods. Shoal Lake is a year round Walleye sanctuary. You cannot keep the Walleyes you catch in Shoal Lake. This is a catch-&-release Trophy Walleye Lake. It's the main spawning ground for all of Lake of the Woods and produces the biggest Walleyes you will find anywhere. It's also your best chance at catching the biggest Walleye of your life. This is Heaven for trophy Walleye hunters. Walleyes in the five to ten pound range are common. If you want to keep and eat Walleyes it is not that far to Lake of the Woods and out of the Walleye sanctuary. They offer an American Plan option and guiding. Their modern cottages are clean and comfortable. They also offer outstanding fishing for Musky, Northern Pike, Smallmouth Bass and Lake Trout. These species are not protected in the Walleye sanctuary so regular limits apply.